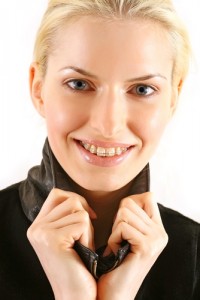 Orthodontics is the art and science of repositioning teeth for great smiles. In addition to looking fantastic, properly aligned teeth are easier to keep clean, which promotes good oral health. In Findlay, you can choose the type of orthodontic treatment that suit your specific needs: traditional braces or Simpli5 clear braces.
Dr. William Kibbey has completed advanced training in orthodontics, and he has over 20 years of experience creating gorgeous smiles. He'll work with you to determine the optimal solution for your unique needs and one-of-a-kind smile.
Good for All Ages
Braces are a good choice for kids and adults. The American Dental Association states that nearly 5 million people in the US and Canada are currently undergoing orthodontic treatment. One million of those are adults: some have chosen to wear braces for the first time, and others want to refine their smiles after wearing braces as kids.
Go the Traditional Route
Most people envision metal brackets and wires when they think of braces. This type of treatment has been used for decades to create great smiles, and it's still a fine choice today. Brackets applied to teeth hold metal wires in place. Tension applied to the wires moves teeth into their ideal arrangement. Metal brackets, as well as clear and colored ones, are available.
Dr. Kibbey often recommends traditional braces for children and teens needing orthodontic treatment.
Get a Clearly Beautiful Smile
Comparable to Invisalign, Simpli5 invisible braces employs acrylic aligners to adjust tooth position. It's a great choice for older teens and adults who want to improve the appearance of front teeth. The aligners are removable, comfortable, and clear. Treatment time with Simpli5 is faster than with traditional braces.
Call today to schedule an orthodontic evaluation with Dr. Kibbey. At our Findlay office, you'll discover uncompromising care and patient-focused service.