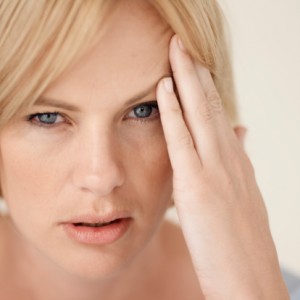 You feel those first twinges of pain and brace yourself for what's coming –another migraine headache. The pain can be unbearable, and at times, take you completely out of commission. The throbbing is miserable, and light and sound might as well be sharp instruments prodding your brain. You don't have time to live this way! But where do you turn for help?
Migraine Relief from Your Neighborhood Findlay Dentist? Yes!
Many patients think they are helpless against the torment of migraine pain. It's simply not true. If you suffer from headaches, they may be caused by TMJ dysfunction, also known as TMD. What you should know is that TMJ dysfunction is highly treatable and help is available from Dr. Kibbey at his Findlay general dentistry practice.
What is TMJ Dysfunction?
Life today moves fast and a lot of people are simply stressed out. You've probably heard a little about your temporomandibular joints, or TMJ. They are the small, very sensitive joints that join your jaw to your skull. TMJ dysfunction, sometimes referred to as TMD, is a prevalent problem, and is often the product of the subconscious teeth grinding and jaw clenching associated with stress. This begins a domino effect, causing the muscles of the face and jaw to become overworked and resulting in migraine headaches. Other symptoms of TMJ dysfunction? Jaw tenderness, ringing in the ears, earaches, and stiff neck and shoulders. Sound familiar?
Treating Findlay TMD Patients with BOTOX
A non-surgical option for TMJ dysfunction and migraine pain is BOTOX. Yes, that BOTOX! An FDA-approved product that helps stop involuntary clenching and grinding, BOTOX gives your jaw a facial muscles a much-needed rest that relieves migraine headache pain. BOTOX is a highly targeted treatment, affecting only the injected muscles. Best of all, there's no downtime with BOTOX treatment for TMD and migraines, so you can get back to your normal activities when you leave Dr. Kibbey's office.
Think you might have TMD? At our Findlay general and cosmetic dental practice, Dr. Kibbey can provide you with a comprehensive examination and help determine if TMD is the source of your migraine headaches. To learn more about BOTOX treatment for TMJ dysfunction and migraine pain, contact us today!