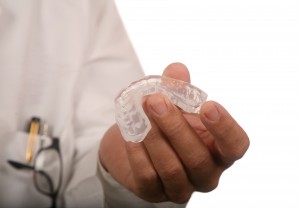 Botox® is quickly becoming a popular solution for dentists treating patients with TMJ dysfunction, or TMD. Plus, besides relieving painful symptoms like migraines or shoulder pain, Botox also eases signs of aging.
But for some, this simple, non-surgical therapy may be unappealing. Whether you're nervous about the injections or just don't want to schedule new appointments every four to six months, you'd just rather find a different way.
That's what Dr. Kibbey offers an alternative to Botox therapy—nightguards. Worn while you sleep, nightguards provide relief by taking the pressure off your aggravated jaw and facial muscles. What's more, they can even stop the grinding associated with stress-induced teeth grinding, known as bruxism.
Easy Relief from TMD
If wearing a nightguard is easy, so is getting set up with one. When you come into our office, we'll perform a tooth-by-tooth inspection and take an impression of your mouth. That impression will be sent to our lab, and in just a couple of weeks your nightguard will be sent back for you to pick up. It's a simple, non-surgical approach to TMD that's worked for countless patients.
If you'd like to know more about nightguards or any of our other TMD therapies, contact our office. Serving Findlay and surrounding cities, our office can bring your smile the relief you've been looking for.